Homebuyer Programs & Services
MODULE 6: Homebuyer Programs & Services
ENHANCING AND IMPLEMENTING HOMEOWNERSHIP PROGRAMS IN NATIVE COMMUNITIES
Homebuyer Programs & Services
Homebuyer Programs & Services
As the results of the Yankton Sioux Tribe's Housing Needs and Homeownership Study show, preparing homeowners to purchase (and retain) their homes needs to be a key part of the homebuying process.
What do we mean by "homebuyer readiness" and preparing homeowners?
What did we see in the Yankton Sioux Tribe's survey data that underscores the importance of homebuyer readiness?
Mapping Out Homebuyer Readiness Programming
As we explore homebuyer readiness programming, map out what it takes to prepare families to successfully purchase, maintain, and retain their home.
What does preparing homebuyers include and entail?
What Is Homebuyer Readiness Programming?
What Is Homebuyer Readiness Programming?
Homebuyer readiness programming focuses on educating families on the home purchase process through both individual counseling and coaching, as well as group classes. It also focuses on supporting homebuyers in the different aspects of purchasing a home, which may include how to find the right home, constructing a home, applying for a mortgage, accessing subsidies to reduce costs, navigating the leasehold mortgage process, and repairing credit. These different components of preparing homeowners are discussed below:
◉Financial education

◉Homebuyer education

◉Homebuyer counseling

◉Loan packaging assistance

◉Accessing subsidies

◉Navigating the leasehold mortgage process

◉Finding the right home/constructing a home

◉Credit coaching and credit improvement plans

◉Financial coaching

◉Individual Development Account (IDA) programs

◉Post-purchase education and counseling
Financial Education Classes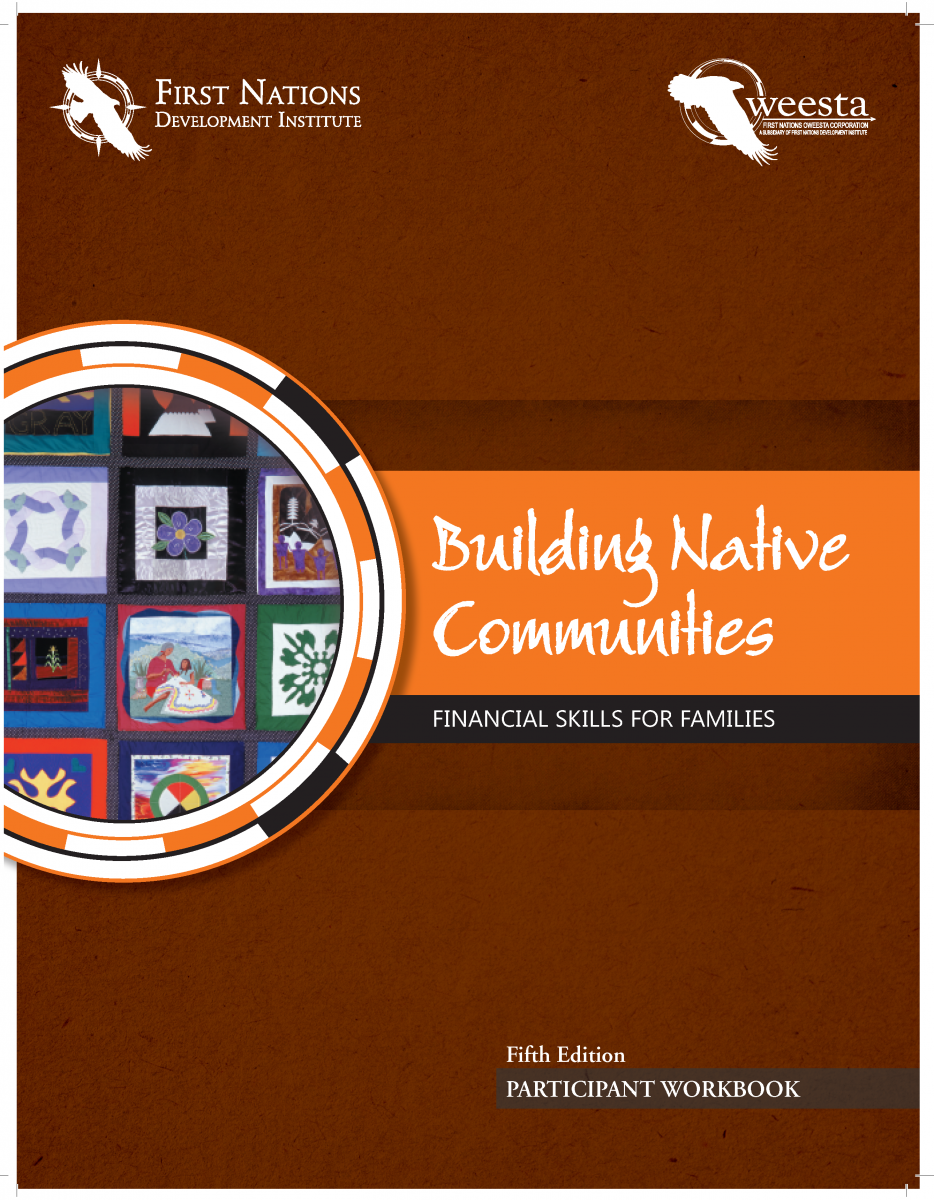 Financial education classes are often the first step to homeownership. These classes cover basic budgeting and money management, as well as understanding credit. Many Native organizations use the Building Native Communities: Financial Skills for Families curriculum, developed by First Nations Development Institute and Fannie Mae, and managed by First Nations Oweesta Corporation (Oweesta). Oweesta provides instructor trainings around the country to prepare local practitioners to use the curriculum.
Homebuyer Education Classes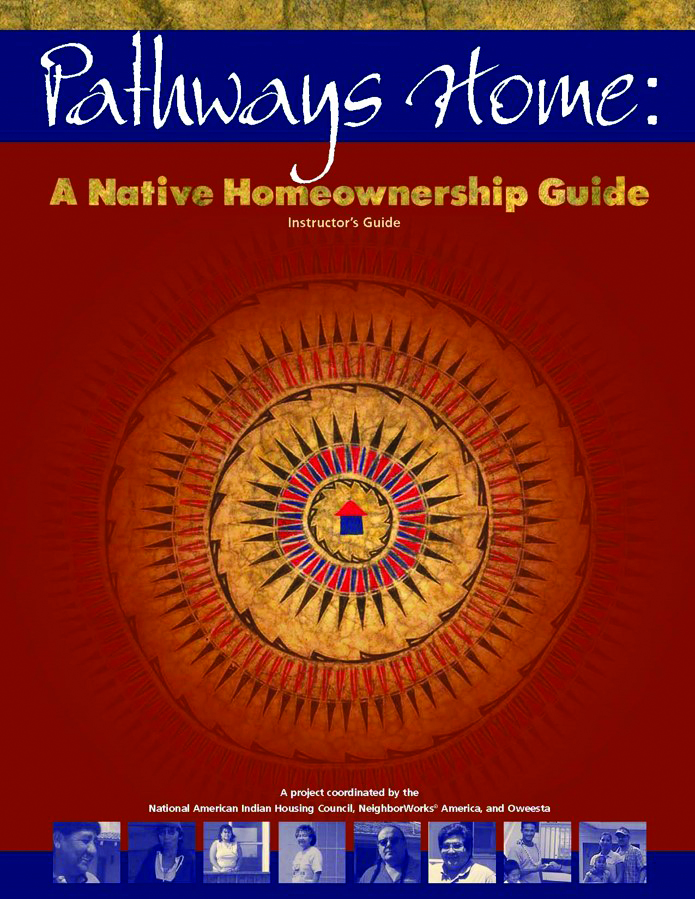 Building on financial education, homebuyer education classes focus on the homebuying process and homeownership to prepare families to purchase, build, rehab, maintain, and keep their own homes. Many Native organizations and Tribally Designated Housing Entities (TDHEs) providing homeownership education use the Pathways Home: A Native Homeownership Guide, developed by the National Congress of American Indians (NCAI), and managed by the National American Indian Housing Council (NAIHC). NAIHC conducts train-the-trainer sessions to prepare instructors to teach this curriculum in their communities. This curriculum covers:
Building an understanding of the mortgage loan process
◉How to prepare a family budget

◉How to improve credit profiles

◉How to avoid the pitfalls of predatory lending

◉How to prevent foreclosure

◉How to maintain a home
Homebuyer Counseling
While financial education and homebuyer education classes are typically taught in a group setting, homeownership counseling is often one-on-one. This counseling provides support tailored to the borrower's specific needs, looking at their budget, what they can afford to pay for a home, and what it will take to make this happen. Homeownership counseling with individual families may also include:
Loan Packaging Assistance
Homeownership counseling may involve working with families to determine which loan product is best for their needs, and then supporting their efforts to apply for the loan. Depending on income, families may qualify for Rural Development's 502 loan, for example, which has a sliding scale interest rate. Veterans may qualify for the Department of Veterans Affairs Native American Direct Loan product. Another option for Native families is the Department of Housing and Urban Development (HUD)-guaranteed 184 loan, where HUD guarantees the loan made by a private lender.

Accessing Subsidies
Homeownership counseling can assist families in accessing subsidies to reduce the amount of a mortgage loan and monthly payments. These subsidies play an important role in ensuring that homeownership is affordable for families and evaluating if they are taking on a truly affordable and re-payable home loan amount.

Navigating the Leasehold Mortgage Process
Purchasing a home on trust land often means securing a lease, which can be a challenging process. Homeownership counseling can include supporting families' efforts to work with their tribal real estate office, the Bureau of Indian Affairs (BIA), and other entities to secure a lease and Title Status Report.

Finding the Right Home/Constructing a Home
Homeownership counseling can also focus on assisting families in finding the right home if there is available housing stock, or constructing a new home if stock is limited. Constructing a home may include securing bids, selecting a contractor, and choosing a floor plan.
Credit Coaching and Improvement Plans
Having no credit or bad credit (a history of late payments, too many loans or too much debt, or collections) are often barriers to qualifying for a mortgage loan. Therefore, preparing homebuyers can mean addressing credit issues, and working with borrowers to repair their credit scores. Working to repair credit begins with pulling a "credit report," which outlines specific credit issues. Credit improvement efforts can include developing detailed plans to address credit issues, supporting families' efforts to pay off loans/debt, and working with families to contact creditors to consolidate debts.
Financial Coaching
Homebuyer readiness may also involve financial coaching. This approach focuses on partnering with a client to create financial goals, move through obstacles, and provide accountability. Often, a trained coach works one-on-one with a family to help them articulate and move toward a goal. Ideally, the coaching process leads to adopting new financial habits while accomplishing the family's self-determined goal.
Coaching is designed to support clients who want to improve their financial situation and turn knowledge and intentions into action. Throughout the coaching relationship, each goal serves as motivation and a tool to focus residents' attention on identified financial tasks and behaviors.
Individual Development Account (IDA) Programs
IDAs are matched savings programs, where participants have the opportunity to save for a targeted asset goal. The most common asset goals are homeownership, education, and small business. The sponsoring organization matches a participant's saving goal according to a set ratio, such as 2:1 or 3:1.
Post-Purchase Education and Counseling
Post-purchase education is also a critical piece of successful homeownership. While we typically focus on what borrowers need to know before they purchase their home, post-purchase education and counseling focuses on what families need to know once they are in their new home – to successfully repay their mortgage loan and maintain the home. This component focuses on budgeting, saving for emergencies, and even maintenance tasks that families may not have needed to carry out in the past.
Case Study: Salish and Kootenai Housing Authority's Homebuyer Readiness Program
Case Study: Salish and Kootenai Housing Authority's Homebuyer Readiness Program
As we talk about homebuyer readiness programming, let's take a look at one successful program – the Salish and Kootenai homebuyer readiness program. First, we'll watch a video about the program, and then review a case study.
In reading about the program, please consider the following questions:
◉What struck you about the program?
◉Looking at the Salish and Kootenai program, does it have the different components that we reviewed? Are there any components that could be added?
◉If you don't have a homeownership program yet, what would it take to implement this type of program in your community? What would the first step be?
◉If you have a homeownership program in place, is there anything you'd add to your program, based on the Salish and Kootenai program?
CASE STUDY
Homebuyer Readiness Program
Salish and Kootenai Housing Authority, Pablo, Montana
The Salish and Kootenai Housing Authority (SKHA) serves all residents residing within the boundaries of the Flathead Reservation. The Flathead Reservation is home to the Confederated Salish and Kootenai Tribes (CSKT) in northwestern Montana.
SKHA currently manages nearly 700 housing units, including rental, 50 units of Tenant-Based Assistance, an 80-lot trailer park, and the homeownership program. Established in 1963 by Tribal Council action, the SKHA operates as an independent tribal entity. SKHA is now overseen by a seven-member Board of Commissioners appointed by the Tribal Council.
The SKHA executive director has oversight over six different departments: Finance, Administration, Housing Resource, Occupancy, Maintenance and Water, and the Sewer Department. In addition, all housing programs and services have been consolidated into the Housing Authority's portfolio, including the Bureau of Indian Affairs (BIA) Housing Improvement Program (HIP), Weatherization Program, Indian Community Development Block Grant (ICDBG) Program, and the Tribe's water/ sewer systems. With the transfer of the Indian Health Service Construction (IHS 121) Program, including the project engineer and inspector staff, all housing services are unified into one program, making it easier to serve the community and for the membership to access tribal programs.
Collectively, these programs chart the course for the future of homeownership on the Flathead Reservation.
Project Description
This case study focuses on the Flathead Finance Program for homebuyer readiness and education. SKHA clients interested in buying a home are required to complete the Flathead Finance Program, comprised of four major components:
Application and Intake

Action Planning

Homebuyer Counseling and Readiness Education

Foreclosure Counseling and Prevention
Application and intake. Here, clients use worksheets to compile their income, outstanding credit card and other debt, and current credit scores. They then compute their total household income and complete an initial household budget. All the information about the Flathead Finance Program, the intake form, and other client worksheets are available online or can be requested from SKHA staff.
Action planning. Once the application and intake process is completed, the client enters into the Action Planning phase with SKHA staff. Information from the completed intake forms and worksheets is reviewed and an in-person interview is scheduled. During this initial meeting, SKHA staff work with the client to develop an Action Plan that includes, at minimum:
◉A detailed household budget

◉An analysis of the client's credit history

◉A credit repair plan, if necessary

◉A strategy for savings for down payment, closing costs, and post-purchase expenses
The intake forms and worksheets provide SKHA staff with information to determine the client's eligibility for down payment and closing cost assistance.
◉Clients with no or poor credit histories, and who are not likely to qualify for a mortgage in the near term, are counseled toward a long-term action plan.

◉Clients who are mortgage-ready but lack the required credit history for a bank loan are referred to the CSKT Tribal Credit Department for further assistance.

◉Clients who are mortgage-ready at intake are provided information about local banks from which they can apply for mortgages.
Several banks offer loan products on the Flathead Reservation. Three reservation-based banks are certified HUD Section 184 lenders:
◉Eagle Bank, owned by CSKT

◉Valley Bank

◉Glacier Bank
SKHA does not advocate for a specific loan product or refer the client to a particular bank.
Homebuyer education class. The Flathead Finance Program for homebuyer readiness and education is based on the Pathways Home curriculum, a comprehensive homebuyer education program sponsored by the National American Indian Housing Council designed to help educate prospective Native homebuyers on how to become successful homeowners. The curriculum is specifically tailored for Native American communities.
The training begins with a pre-test to assess each participant's baseline knowledge, and then moves into eight modules:
Exploring Homeownership

Considering Mortgage-based Homeownership

Budgeting for Homeownership

Evaluating Credit for Homeownership

Finding a Home

Applying for a Home Loan

Meeting Your Financial Obligations

Protecting Your Investment
The curriculum is culturally adapted to the community, incorporating an opening prayer and a viewing of Sovereign Lending: A Bright Chance for Survival, the nationally recognized video on homeownership on the Flathead Reservation, produced by the Federal Reserve Bank of San Francisco.
The class is offered one day per month, which means that participants must complete all the modules, take the review test, and get their certificate of completion the same day. They cannot attend part of the class one month and another part the next month, primarily because of the cohesive curriculum.
At the end of the class, participants take a final test, answers are reviewed, and certificates are distributed to those who successfully completed the course.
Foreclosure prevention. Post-purchase classes also are available to support ongoing financial responsibilities of homeownership.
Promising Approach
◉The Flathead Finance Program for homebuyer readiness is designed to be as friendly and flexible for the client as possible, while still maintaining the integrity of the program.

◉Representatives from local area banks are engaged as instructors for some of the modules. Using community bankers as instructors has several benefits:

◉Local bankers have the opportunity to share their expertise and learn from class participants about the financial, credit, and other concerns their customers are facing.

◉ Participants get to know and develop a relationship with the local banking representatives.

◉ Familiarity with local people and developing relationships are essential components of building trust.

◉The program is promoted through many modes of communication throughout the community – the tribal and local county newspapers, the CSKT's website, the tribal employee newsletter, local banks, and realtors.

◉Local area banks require participation in the Flathead Finance Program for certain loan products, such as the HUD Section 184 program.

◉SKHA has a positive relationship with NeighborWorks Montana, which supports the costs of the program and also allows SKHA to benefit from the ongoing training, consulting, and other assistance.

◉The program offers options and choices in lenders in the area, including three HUD-certified lenders.

◉SKHA staff get instant feedback on the program and can assess modules that are most helpful and those that are challenging.

◉SKHA staff are committed advocates who believe that homeownership is possible. They are dedicated to their clients and are available to them every step of the way, including accompanying them to meetings with the lenders if requested.
Impact
◉The Flathead Finance Program for homebuyer readiness sees approximately 155 clients annually.

◉In 2017, SKHA qualified nine people for down payment assistance and closing costs: seven qualified for both benefits; one for down payment assistance; and one for closing costs.

◉More and more people are successfully closing on homes and becoming successful homeowners.

◉Even if clients are not closing on a home, SKHA sees more people on the reservation who are working hard to repair their credit and prepare for homeownership.
Lessons Learned
◉Structured hands-on learning – Clients need a structured, hands-on, and patient approach, and that is what SKHA offers.

◉Credit and credit repair – Many clients are working diligently on credit and credit repair, even though they may not purchase a home in the future.

◉Possibility of homeownership – Tribal members are realizing that homeownership is possible.

◉Tribal leadership and support is an essential component, because they lead by example – they are homeowners themselves and they support SKHA policies that promote homeownership.
Ongoing Challenges
◉Affordability and limited housing stock. New home construction costs are increasing and outpacing affordability.

◉ Although SKHA clients qualify for a mid-range mortgage, recent construction of eight modest two-bedroom rental homes cost well above that threshold.

◉ Consequently, people who qualify for a mortgage may not be able to afford new construction.

◉ There is a limited housing market of existing homes on tribal trust lands.

◉Funding uncertainty. The ICBG financial assistance program for down payment, mortgage subsidy, and foreclosure prevention has been eliminated in the proposed 2019 budget, which disrupts planning new projects.

◉State collaboration. SKHA does not receive support from the State of Montana and would benefit from mutual collaboration around affordable housing.

◉More choices. SKHA needs more options to serve its clients. There is a constant need to identify or develop additional mortgage products with the flexibility for Indian Country lending.
On the Horizon
◉The Flathead Finance Program for homebuyer readiness will continuing to be a mainstay of the SKHA housing program.

◉SKHA staff has the capacity and desire to serve many more clients.
Case Study Discussion Questions
Case Study Discussion Questions
What struck you about the program?
Looking at the Salish and Kootenai program, does it have the different components that we reviewed? Are there any components that could be added?
If you don't have a homeownership program yet, what would it take to implement this type of program in your community? What would your first step be? What people and local organizations come to mind?
If you have a homeownership program in place, is there anything you'd add to your program, based on the Salish and Kootenai program?
Partner Check
Now that we've discussed homebuyer readiness, are there additional partners that you'd like to add to your initial list?